FILM OVERLAYS, VINTAGE FILM EFFECTS, SUPER 8 AND 16MM.
FILM BURNS, FILM GRAIN, DIRT, DUST, SCRATCHES AND LIGHT LEAKS.
Super 8 film grain overlays collection
82 High Resolution clips of authentic Super 8 film grain. Each file has a different subtlety in terms of tint and texture. You also get 37 clips showing the visible area of the film frame with the sprocket hole.
Old film look effects – super 8mm and 16mm
Light leaks, flash frames, film clutter, film sprockets, countdown leader, super 8mm and 16mm film. Great for using as transition effects. 29 video files, 1 minute and 14 seconds of footage, ProRes 1080P.
16mm Film Grain Overlays – 4K
Sharp scans of real 16mm film with mild dirt and dust. A great choice if you only need basic old Film Effects. 3 video files of 4K film grain overlays, 33 seconds of footage, ProRes HQ, 4K (ULTRA HD) 3840 × 2160, 24fps.
Dirt and Scratches Collection – Super 8 and 16mm Film
These cool scans are a variety of dirt and scratches textures of authentic super 8 and 16mm film. Great for old film look effects in your creative projects. 28 video files, 13 minutes of footage, ProRes 1080P.
16mm old film overlays collection – 4K
Rasor sharp 4K Film Scan Overlays made from Authentic Old 16mm Film. A wide variety of film dirt, dust and scratches for overlay effects. 79 video files, 20 minutes of footage, ProRes HQ, 4K (ULTRA HD) 3840 × 2160, 24fps.
16mm vintage film effects with sprocket holes on side – 4K
If you love the look of the frame of 16mm film with the sprocket holes on the left side and the sound stripe on the right side, well this collection is a must have tool for your creative projects.
16mm film leaders collection – 4K authentic vintage footage
4K film scans of authentic retro Film leaders. These are great hight quality clips you can use to stylize your work. 81 video files, 4:37 minutes of footage, ProRes HQ, 4K (ULTRA HD) 3840 × 2160.
Old Damage Effects on 16mm Film – 4K
These are very heavy damages like dirt, dust and scratches on 16mm film. Great for any project that needs the dirty and grungy vintage film effect. These are authentic film scans, so this means that what you get here is the real deal.
Super 8mm and 16mm effects – The film leaders collection
Film scans of authentic vintage countdowns and old retro head and tail leaders. A film leader is a length of film attached to the head or tail of a film to assist in threading a projector or telecine.
VHS effects collection – Analog, crt screen, tv noise
VHS looks for video editors. Made from authentic VCR recorders. Give that old trashy 80's look to your footage. 94 HD files of authentic VHS retro effects. Length of total footage is about 10 minutes.
16mm film dirt and scratches effects – Mega bundle
We are very proud to present this tremendously large collection of 16 mmFilm Scans. They are so sharp that they simply just speak for themselves. 172 files, 44 minutes of footage, Apple Prores HQ, 1080p, 64GB
Super 8 film effects – Full gate with sprocket  hole and grain
This is an experiment that was done by filming with a super 8mm camera on various color surfaces with different light variations. The film clips were scanned so we could see the whole frame and the sprocket hole on the side.
Damaged 35mm film – Overlays and textures
These files are animated scans of deteriorated 35mm film slides. Just place a file of your choice over your footage and apply the "multiply" or "darken" blending modes.
Old film overlays – Sharpie markers effects on 16mm
These are different effects of traces of Sharpie markers on old 16mm film. The transparency effect will work great if you use the "multiply" or the "darken" composite modes.
Old film effects – Grunge textures on 16mm film
Great Grunge effects on 16mm film for your creative video projects. Some files could work as overlays, but most of them will serve as textures for backgrounds or transitions.
Old Film Looks with Paint on 16mm
This is an experiment with paint on film that you can use for your creative video projects. These are Cool crazy paint and deterioration experiments made on 16mm film. They could be used as motion backgrounds or transition effects.
Bad tv signal and glitch effects in 4K
This is an experiment where we shot different types of analog noises on an old TV screen. Feel free to use them as motion background textures or as transition effects for your creative video projects.
Old 16mm film effects –  Damaged bleached film
These very beautiful photochemical textures are the result of a very bad manipulation of film during processing. They may not be the easiest overlays to work with but you can get some cool results out of it.
VINTAGE 16MM FILM OVERLAY
This is a 4K vintage film effect that was blended with stock video footage. The film frame, the sprocket holes, the dirt, the scratches and the tint of the celluloid are all characteristics that can help change the feel of an image. In this case, also adding an 80's synth soundtrack kind of gives an uncanny feeling to the whole thing. This effect was achieved by applying the "overlay" blend mode and other tweaking.
This film effect is available in our 4K Vintage Film Overlays Collection.
It is also available in our HD Film Dirt and Scratches Collection Volume 2.
The awesome music which is free to use is by : White Bat Audio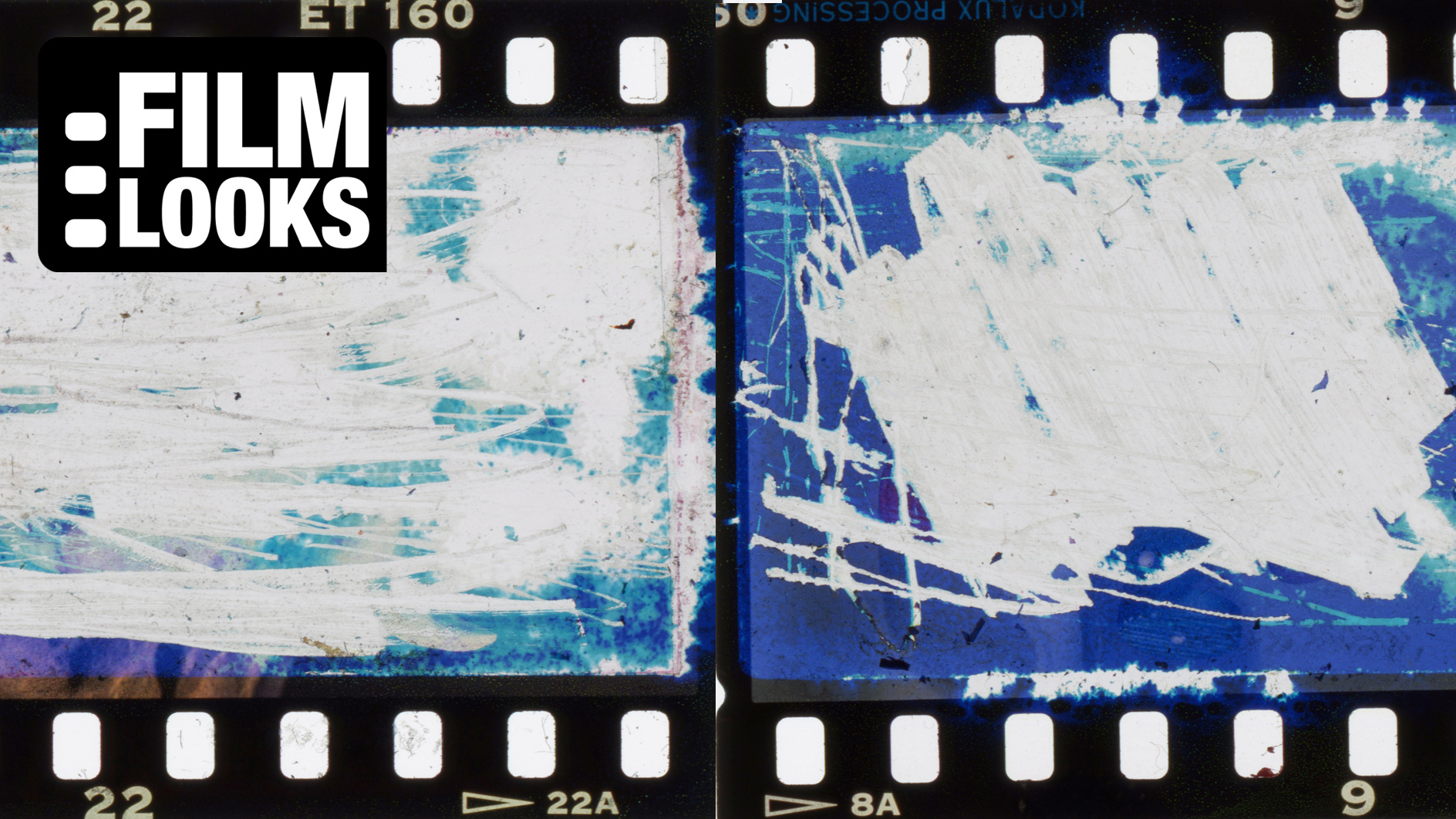 FILM OVERLAYS AND TEXTURES
Also on this page : Very affordable high quality film overlays and textures for video editing. Damaged 35mm effect, 16mm grunge effects and also bad tv analog effects.
Make sure you don't miss any new stuff from us. Subscribe to our YouTube Channel